Latest news
Clair Linzey Raises £500 for Centre
2nd June 2010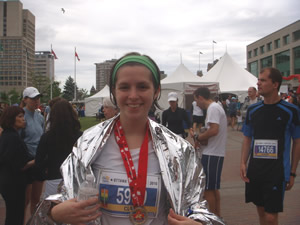 Clair Linzey, daughter of Centre Director Professor Andrew Linzey, has raised more than £500 for the Centre by running a half-marathon in "Run Ottawa", Canada's premiere running event on 30th May, 2010.
Clair completed the half-marathon in 2hrs 40mins.
Pictured is Clair at the end of her triumphant race.
Clair and the Centre would like to thank all those who generously sponsored her for this event.
Further information about the "Run Ottawa" marathon is here.