Deputy Director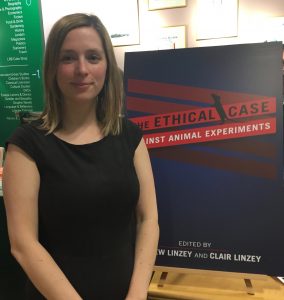 Dr Clair Linzey is the Deputy Director of the Oxford Centre for Animal Ethics.
She is also the Frances Power Cobbe Professor of Animal Theology at the Graduate Theological Foundation, USA. Her doctorate is in theology from the University of St Andrews, Scotland. Before that, she gained her masters in theology at the same University, and then did a second masters at Harvard Divinity School.
Dr Linzey is Director of the Annual Oxford Animal Ethics Summer School. She is co-editor of the Journal of Animal Ethics published by the University of Illinois Press, and co-editor of the Palgrave Macmillan Book Series on Animals Ethics. Her co-edited volumes on animal ethics and theology, include Animal Ethics for Veterinarians (University of Illinois Press, 2017), The Ethical Case Against Animal Experiments (University of Illinois Press, 2018), The Palgrave Macmillan Handbook of Practical Animal Ethics (Palgrave Macmillan, 2018), The Routledge Handbook of Religion and Animal Ethics (Routledge, 2018), and Ethical Vegetarianism and Veganism (Routledge, 2018).
She is the author of Developing Animal Theology: An Engagement with Leonardo Boff (Routledge, 2021).
Clair can be contacted at depdirector@oxfordanimalethics.com.