Latest news
Fellow publishes Creaturely Poetics
18th April 2011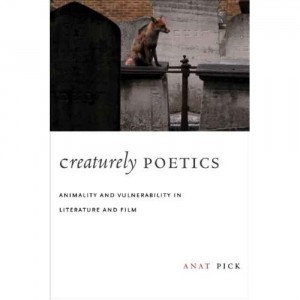 Centre Fellow Dr Anat Pick's remarkable book Creaturely Poetics: Animality and Vulnerability in Literature and Film has just been published by Columbia University Press.
Simone Weil once wrote that "the vulnerability of precious things is beautiful because vulnerability is a mark of existence." With these words, she established a relationship among vulnerability, beauty, and existence that transcends the boundaries separating the species. Her conception of a radical ethics and aesthetics could be characterized as a new "poetics of species," that forces us to rethink the significance of the body, both human and animal. Exploring the "logic of flesh," or how art and culture use the body to mark species identity, Anat Pick re-imagines a poetics that begins with the vulnerability of bodies, not the omnipotence of thought.
Offering a powerful alternative to more personalist visions of morality, Pick proposes a "creaturely" approach based on the shared embodiedness of humans and animals and a postsecular perspective on human-animal relations. She turns to literature, film, and other cultural texts that prioritize the inhuman and challenge the familiar inventory of the human (consciousness, language, morality, and dignity). She reintroduces Weil's crucially important work and its elaboration of themes such as witnessing, commemoration, and collective memory, and she moves away from assumptions about animal "otherness" and nonhuman subjectivities. Pick identifies the "animal" within all humans, emphasizing the corporeal and its issues of power and freedom. In her creaturely view, powerlessness is the point at which both aesthetic and ethical thinking must begin.
The book has already received strong endorsements:
"Anat Pick's Creaturely Poetics offers an incredibly inspiring and novel approach to rethinking human relationships with animals. With its compelling account of an ethics based on attentiveness and responsiveness to the vulnerability of animal beings, Pick's important book will help to steer discussions in animal ethics and animals studies in new and productive directions." — Matthew Calarco, California State University, Fullerton, and author of Zoographies: The Question of the Animal from Heidegger to Derrida.
"Anat Pick's Creaturely Poetics explores the charged, incandescent space in which the ordinary or the everyday and the mystical or the theological cross on the site of what we call 'the animal.' Working through a dazzling array of readings in literature, film, and philosophy, Pick holds onto the complex thought of Simone Weil as a lifeline in what is an unflinching and courageous confrontation with the ways in which we evade what it means to share the earth with our fellow creatures." — Cary Wolfe, Bruce and Elizabeth Dunlevie Professor and Chair, Department of English, Rice University, and author of What Is Posthumanism?
"Even more than Anat Pick's preparation and energetic writing, the quality of thought conveyed in this book may be its most significant feature. Here is an original thesis, built from, around, with, and against existing work in related (and unrelated) areas, timely and singular, which contributes to several fields and disciplines at once. The 'creaturely poetics' invoked by the author work through problems in philosophy, critical theory, film criticism, and literary studies; they address historical questions such as the Holocaust, theoretical/ethical concerns including 'speciesism,' and formal and aesthetic concerns related to a variety of modes and genres in film and literature. Very few scholars can do what Pick has achieved: blending credible film analysis and criticism with animal studies and critical thought." — Akira Mizuta Lippit, USC School of Cinematic Arts, and author of Electric Animal: Toward a Rhetoric of Wildlife.
Information on how to order the book is here.