Latest news
Fellow Contributes to Pioneering Conference in Brazil
9th June 2011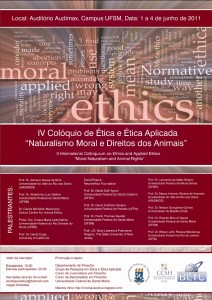 Centre Fellow, Dr Carlos Naconecy, a Brazilian ethicist, has made a contribution to a groundbreaking conference in Brazil.
This month the II International Colloquium on Ethics and Applied Ethics took place at the Federal University of Santa Maria.  It was the first national academic meeting held by a philosophy department in Brazil which focused on Animal Ethics as one of the main items on the agenda.
The conference addressed several issues in applied ethics, and gathered fourteen academics together. Along with other Brazilian ethicists and philosophers, Dr Naconecy presented a paper titled "What is really wrong with killing animals (painlessly)?" in which he dealt with the difficult problem of the moral acceptability of killing animals, the value of life itself, and our obligation to take an animal's interest in continued life into account.
In contrast to English-speaking countries, a thoughtful, enlightened public debate about the animal question is still quite young in Brazil. "I believe that we have broken new ground", said Dr Naconecy. "I hope it will be the first of many philosophical conferences on animal ethics in the future".
For more information see here.