Latest news
Second Issue of Journal of Animal Ethics Published
18th October 2011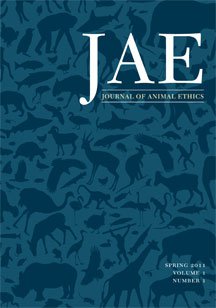 The second issue of the Journal of Animal Ethics (JAE) has just been published by the University of Illinois Press.
The contents include an analysis of the harms inflicted in industrial farming by Matthew C. Halteman, an examination of the theological differences between humans and animals and what they imply morally by Ryan Patrick McLaughlin, the continuing dialogue on friendship as the basis of animal ethics between Barbro Fröding, Martin Petersen, and Mark J. Rowlands, and a debate between Maxim Fetissenko and Per-Anders Svärd on the rhetorical strategy of the animal rights movement.
The editorial takes issue with the Chief Executive of the New Philanthropy Capital consultancy who maintains that it is wrong to give money to animal charities. "What rational basis have we for supposing that, among all the species of the earth, humans have an exclusive claim to moral solicitude?" counter the editors.
The full list of contents is here and the facebook of the JAE is here.