Latest news
Centre welcomes Visiting Fellow
7th February 2012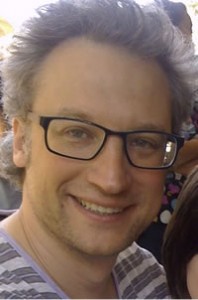 The Centre welcomes Dr Chris Danta, a Lecturer in English in the School of the Arts and Media at the University of New South Wales, Sydney, as its second Visiting Fellow.
He is the author of Literature Suspends Death: Sacrifice and Storytelling in Kierkegaard, Kafka and Blanchot (Continuum, 2011) and the co-editor of Strong Opinions: J. M. Coetzee and the Authority of Contemporary Fiction (Continuum, 2011). He has co-edited a special issue of Sub-Stance on the Political Animal (2008) and published essays in New Literary History, Textual Practice, Modernism/modernity, Sub-Stance and Literature & Theology.
Dr Danta is currently completing a book with the working title, Fables of Finitude: On the Literary Animal After Darwin. This book argues that metamorphosis stories after Darwin are often fables of finitude where human characters become animal in order to realise the sense of finitude they share with other animals.
While in England he is giving papers that derive from this book. He is speaking at the University of Oxford on February 10th at 5pm. The venue for this talk is New Seminar Room A at Wadham College (Parks Road) and the paper is entitled, "Animal Bachelors and Animal Brides: Fabulous Metamorphosis in Kafka and Garnett". He is also giving a paper at King's College, London, on February 13th at 5.30 pm. The title for this paper is "The Future Will Have Been Animal: Dr Moreau and the Aesthetics of Monstrosity."
Dr Danta may be contacted at c.danta@unsw.edu.au.