Latest news
Fellow becomes President Elect of the Pathology Council of the Royal Society of Medicine
20th March 2012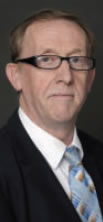 Centre Fellow David Spratt FLS (Lond), FIBMS, FRSM has been appointed President Elect Designate of the Pathology Council of the Royal Society of Medicine (RSM).
David Spratt is Manager of the Department of Cellular Pathology for the North Middlesex University Hospital NHS Trust and has been a member of the Pathology Council of the RSM since 2007.
He is an international expert on zoonotic diseases, how animal captivity leads to the proliferation of such diseases, and how these impact on animal and human health and the environment. David organised a groundbreaking symposium at the RSM on the subject, titled "Zoonoses – from wildlife to warfare".  See here.
In addition to being a Fellow of the RSM, David is also a Fellow of the Linnean Society of London, the Society of Biology, and is a Council member and London region Council member of the Institute of Healthcare Management.
The Centre is delighted to hear this news and warmly congratulates David on his appointment.