Latest news
First Introduction to Critical Animal Studies Published
4th February 2013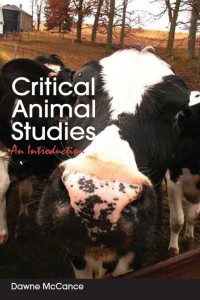 Centre Fellow Professor Dawne McCance has published the first introduction to Critical Animal Studies.
Published by SUNY (State University of New York Press) it provides a much needed comprehensive overview of key theoretical approaches and issues in the field.
Having roots as a specialized philosophical movement at Oxford University in the early 1970s, critical animal studies is now taking shape as a wide-open, multidisciplinary endeavour through which scholars across the humanities, sciences, and social sciences, and others ranging from creative writers to architects, are joining together to address issues related to today's unprecedented subjection of animals.
Introducing this emerging field, Professor McCance describes the wide range of analysis and approaches represented, looking at much-debated practices such as industrialized or "factory" farming of animals, handling and slaughter, animal experimentation, wildlife management, animal captivity, global genomics, meat-eating, and animal sacrifice. She equally focuses on many of the theoretical and ethical problems that recur across the field, raising critical questions about prevailing approaches to animal ethics, and inviting new ways of thinking about and responding to animals.
Says David Farrell Krell, Professor Emeritus of Philosophy, DePaul University: "Dawne McCance, educated first as a biologist and geneticist, and later as a philosopher, has produced an extraordinary book. It introduces us to the principal philosophical issues in the areas of animal rights, animal studies, ecology, and ethics in a lucidly argued way, with both breadth and depth. The major contributions of feminist thinkers, of religious traditions from all over the world, and of Continental European thinkers—above all, the remarkable work of Jacques Derrida—are presented in a clear and comprehensible way. The writing and thinking are always pellucid and dependably profound. No reader will ever forget the preface to the book, 'Chopped Liver.' And no reader who works through the book will fail to be grateful for this comprehensive and truly critical introduction to critical animal studies."
Professor McCance is University Distinguished Professor in the Department of Religion at the University of Manitoba.
For more information about the book, see here.