Latest news
Australian Pioneer Honoured for Philanthropic Work
19th March 2013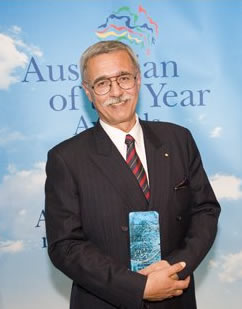 The Oxford Centre for Animal Ethics is delighted to announce Australian philanthropic pioneer, Philip Wollen as its seventh Honorary Fellow. The award is given to individuals who have made an outstanding contribution to the protection of animals.
Philip Wollen, 62, founder of the Winsome Constance Kindness Trust in Melbourne, supports some 500 projects in more than forty countries in five key areas: children, animals, the sick, the environment and aspiring youth.
The mission statement reads "to promote kindness towards all other living beings and enshrine it as a recognisable trait in the Australian character and culture". The initiative, named after his mother and grandmother, provides funding for schools, sanctuaries, shelters, orphanages, lion parks, vehicles, ambulances, biogas plants, disaster recovery, medical equipment, food and medicine.
In choosing the projects he supports, Wollen is assisted by an international network of contacts who he conduct "due diligence" on his behalf. His preference is for small pro-vegan programs that "punch above their weight".
Wollen describes himself as an "ahimsan" – derived from the Sanskrit word "ahimsa" – which means non-violence to any living being". He believes that ahimsa is "the most beautiful word ever written at any time, in any country, in human history." Wollen does not distinguish between the suffering of human and non-human animals. A philosophy that he summarizes as "In their capacity to suffer, a dog is a pig is a bear … is a boy." Philip Wollen received the "Order of Australia" in 2005, the "Australian Humanitarian of the Year" in 2006 and in 2007, on Australia Day, he received the award "Australian of the Year Victoria".
Professor Andrew Linzey, Director of the Oxford Centre for Animal Ethics says "It is a great pleasure to honour someone who has worked so sacrificially to improve the world for humans and animals."
Every year the Centre invites one or more outstanding individuals to become Honorary Fellows. Current Honorary Fellows are the Nobel Laureate for Literature Professor J. M. Coetzee, the distinguished international philanthropist Dr Irene W. Crowe, the Vice-Chancellor of the University of Winchester Professor Joy Carter, Madame Jeanne Marchig founder of the Marchig Trust for Animal Welfare, Professor Justus George Lawler, theologian and scholar, and Multi Emmy award winning television personality, philanthropist, and educational pioneer Bob Barker.
For more press information please contact Sam Calvert, at Samantha Calvert Marketing & PR on +44 (0)1782 505430 or +44 (0)7967 042050 or email sam@samcalvert.plus.com