Latest news
Latest Issue of JAE
11th April 2013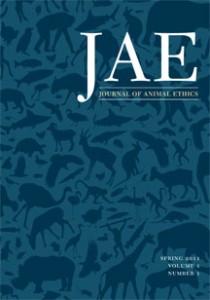 The latest issue of the Journal of Animal Ethics (JAE) published by the University of Illinois Press together with the Centre has been published.
It includes: a discussion between Grace Clement and Mark Rowlands on whether animals are moral; another exchange on size, causality and vegetarianism between Joel MacClellan and Mark Bernstein; a pioneering piece on transgenic animals by Kay Peggs; a fascinating article by Tom White on the limits of anthropocentrism; an account of the growth of animal law course in the U.S. by Akisha Townsend, and much more.
Further information about the contents and how to order can be obtained here.