Latest news
New Book on Killing Happy Animals
4th September 2013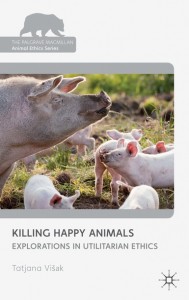 Dr Tatjana Višak of Monash University has published a groundbreaking book critiquing the utilitarian justifications for killing animals – even 'humanely' – for food.
Published this month, the book has already received praise from leading animal ethicists:
"In Killing Happy Animals, Tatjana Visak probes a question that is crucial to the ethical evaluation of eating meat: whether bringing animals into existence benefits them, and can compensate for killing other animals. Those who believe it justifiable to kill one happy animal if it will be replaced by another will be challenged by Visak's clearly argued case against this view. This book makes a major contribution to a philosophical debate with important practical implications." – Peter Singer, Professor of Bioethics, Princeton University.
"It is increasingly the conventional wisdom among right-minded people that it is
permissible to eat meat so long as the animals have happy lives and are painlessly slaughtered. Tatjana Visak digs deep into the utilitarian foundations of this comfortable philosophy and concludes that it is wrong: most of us are morally obliged to live a vegan life-style. Visak's arguments must be confronted by anyone who claims to be a conscientious consumer." – Professor Dale Jamieson, Director of Center for Bioethics,New York University, USA.
The book is the latest in the Palgrave Macmillan Series on Animal Ethics published in partnership with the Centre. Further details about the book are here.