Latest news
Praise for the Global Guide to Animal Protection
27th October 2014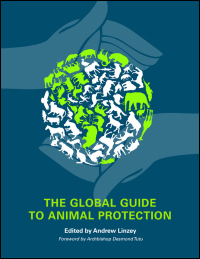 Published in January by the University of Illinois Press, the Global Guide to Animal Protection has received wide praise as a pioneering work.
Edited by Centre Director Professor Andrew Linzey, it comprises more than 180 introductory articles on the state of animal protection worldwide including sections on free-living animals, aquatic life, companion animals, animals used in laboratories, for sport and for food, and a  section on cruelty-free living. More than 20 articles are written by Fellows of the Centre.
Archbishop Desmond Tutu in his Foreword argues that "Even when faced with urgent human problems, we should not overlook the issue of justice to animals. . . . This Global Guide reflects a growing worldwide sensitivity to animals and a developing sense that–as a matter of justice–they deserve our compassion and respect. It has my warm support." His comments on animal protection (by far the most progressive from any Christian leader) havegarnered acres of comment on the world wide web.
Positive reviews include:
"An intriguing array of eye-opening information, covering economic, legal, religious, ecological, moral, and biomedical viewpoints."—Choice.
"An excellent and trusted resource."–The Vegan.
"This is a very reasonably priced and information-packed collection of short essays covering animal protection across the globe. Written predominately by practitioners and academics, coverage includes history, marine life, wildlife, companion animals, and similar concerns. Entries cover topics such as roadside zoos and menageries and vegetarianism in Britain and America, [and] range from a few paragraphs to a page, and feature bibliographies and cross-references .. it is recommended for academic and public libraries."–Art A. Lichtenstein.
"This quite ambitious project is astounding in both its breadth and depth."–Keith Akers, Compassionate Spirit.
"The Global Guide does encompass the entire world and what is being done or not being done in animal rights. Its articles cover just about every conceivable aspect of animal treatment and protection. A very detailed and varied collection on the subject. An excellent read."–Good Reads.
For a list of contents, and for the Google preview of the Foreword by Archbishop Desmond Tutu, see here.