Latest news
First Handbook of Religion and Animal Ethics
23rd October 2018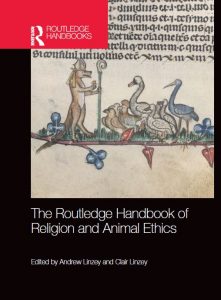 The Oxford Centre for Animal Ethics is delighted to announce the publication of the first Handbook of Religion and Animal Ethics. The result of more than five years of research, the Handbook comprises thirty-five original chapters by leading world scholars.
The first part provides an overview of fifteen of the major world religions, and the second features five sections addressing the following topics:
Human interaction with animals
Killing and exploitation
Religious and secular law
Evil and theodicy, and
Souls and afterlife.
Published by Routledge, the Handbook shows how insights from the major religions of the world can inform a compassionate and respectful attitude to animals. The volume is edited by the directors of the Centre, Andrew Linzey and Clair Linzey, with contributions from more than ten Fellows of the Centre.
The Linzeys commented: "At long last, students and scholars have an authoritative reference work to stimulate new thought on this much neglected topic. It will serve the increasing number of students who are taking courses in Animals and Religion."
Please recommend the book to your university or college library.
Further information (including special discounts on hardback and eBook versions) is available here.
To request a review copy, see here.
Andrew Linzey is the director of the Oxford Centre for Animal Ethics. He has written or edited twenty books, including Animal Theology and Why Animal Suffering Matters.
Clair Linzey is the deputy director of the Oxford Centre for Animal Ethics and co-editor of the Palgrave Handbook of Practical Animal Ethics and The Ethical Case Against Animal Experiments.